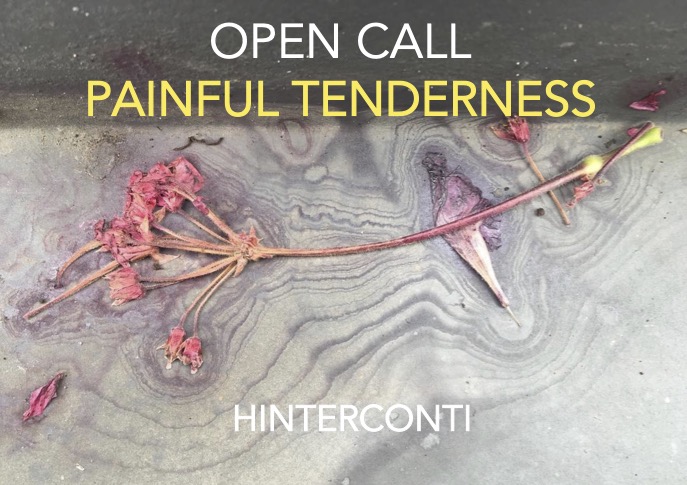 OPEN CALL FOR ARTISTS
PAINFUL TENDERNESS
Einen Gruppenausstellung kuratiert von Judith Hofer
Als er sanft über ihren Arm streichelte, erstarrte sie. Ihr schmerzte die Stelle auf der Haut, als ob er sie mit seiner weichen Fingerkuppe aufgeritzt hätte. Solch Zärtlichkeit war sie nach all dieser Rohheit und Härte in der Welt nicht mehr gewohnt. So schön dieser Moment war, so sehr überkam sie die Angst, dass er in jedem Augenblick wieder zerbrechen könnte. Wie eine junge Pflanze, welche gerade frisch am Wegesrand erblüht, in Gefahr ist jeden Moment niedergetrampelt zu werden.
Zu der im Januar geplanten Ausstellung im HINTERCONTI, Hamburg, möchte ich euch einladen künstlerische Arbeiten jeglichen Mediums, welche sich mit der Thematik auseinandersetzen, einzureichen.
Ausstellungszeitraum: 6.-8. Januar 2023
Bewerbungsschluss: 20.12.2022
Bitte sendet mir bis zum 20.12.2022 eine Email unter dem Betreff "PAINFUL TENDERNESS" mit Abbildungen oder Videos vorgeschlagener Arbeiten, sowie eine Kurzbeschreibung über euch und eure Arbeit an info@hinterconti.de (Max. 1MB)
gefördert durch die Behörde für Kultur und Medien Hamburg
OPEN CALL FOR ARTISTS
PAINFUL TENDERNESS
A group exhibition curated by Judith Hofer
As he gently stroked her arm, she froze. The spot on her skin hurt, as if he had scratched it with his soft fingertips. She wasn't used to such tenderness after all this roughness in the world. As beautiful as this moment was, she was afraid that it could shatter at any moment. Like a young plant, that has just blossomed by the wayside, is in danger of being trampled on at any moment.
For the exhibition planned for January at HINTERCONTI, Hamburg, I would like to invite you to submit artistic works of any medium that deal with the subject.
Exhibition period: 6.-8. January 2023
Application deadline: December 20th, 2022
Please send me an email with the subject "PAINFUL TENDERNESS" including images or videos of proposed works by December 20th, 2022, as well as a short description of you and your work to info@hinterconti.de (Max. 1MB)
funded by the Behörde für Kultur und Medien Hamburg