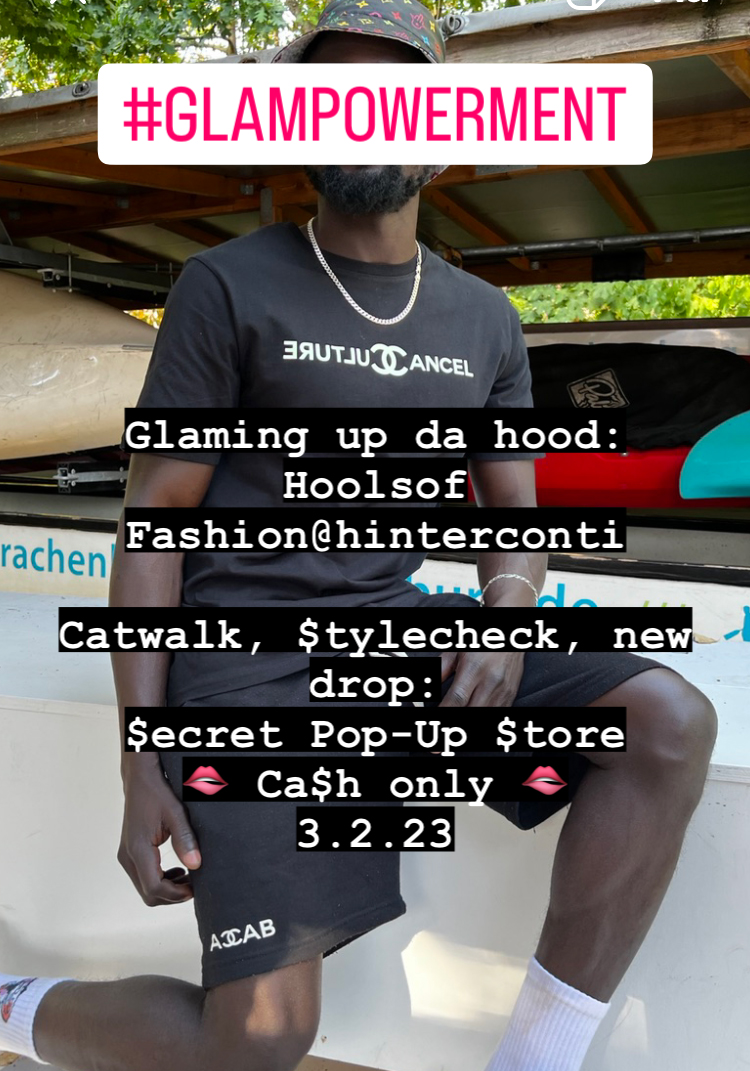 ALL CATWALK$ ARE BEAUTIFUL / CA$H ONLY
Vernissage: 03.02.2023, 20 Uhr
Ausstellung: 04.-05.02.2023, 15-18 Uhr
Turning the Streets of St Pauli into a Catwalk:
Hamburg based collective HOOLS OF FASHION opens "Secret Pop-Up-Shop" at hinterconti.
Dangerous styles in the danger zone. Who´s winning the street style contest? Catwalk, Music, Styles,
New Spring Collection 2023, NEW DROP…
Hools of Fashion reproduziert keinen Gangsta-Style, sondern betreibt GLAMPOWERMENT,
indem sich die Symbole der Reichen und Schönen angeeignet werden. Fakes better than Real,
realer als Fakes. Die Installation "$ecret Pop-Up-$hop" mimt einen Luxus-Shop nach-
als Kommentar zur Gentrifizierungsdynamik in der Nachbarschaft, als berechtigte Frage
der Umverteilung (Luxus für alle), und Repräsentation auf der Strasse (Profiling),
die mit einem kollektiven Catwalk beantwortet wird. Das Kollektiv HOOLS OF FASHION
betreibt Underground-Fashion seit 2014.
$tay beautiful. Fa$hion i$ an attitude!
instagram: hoolsoffashions
hinterconti
Balduinstraße 24
20359 Hamburg
gefördert von der Behörde für Kultur und Medien