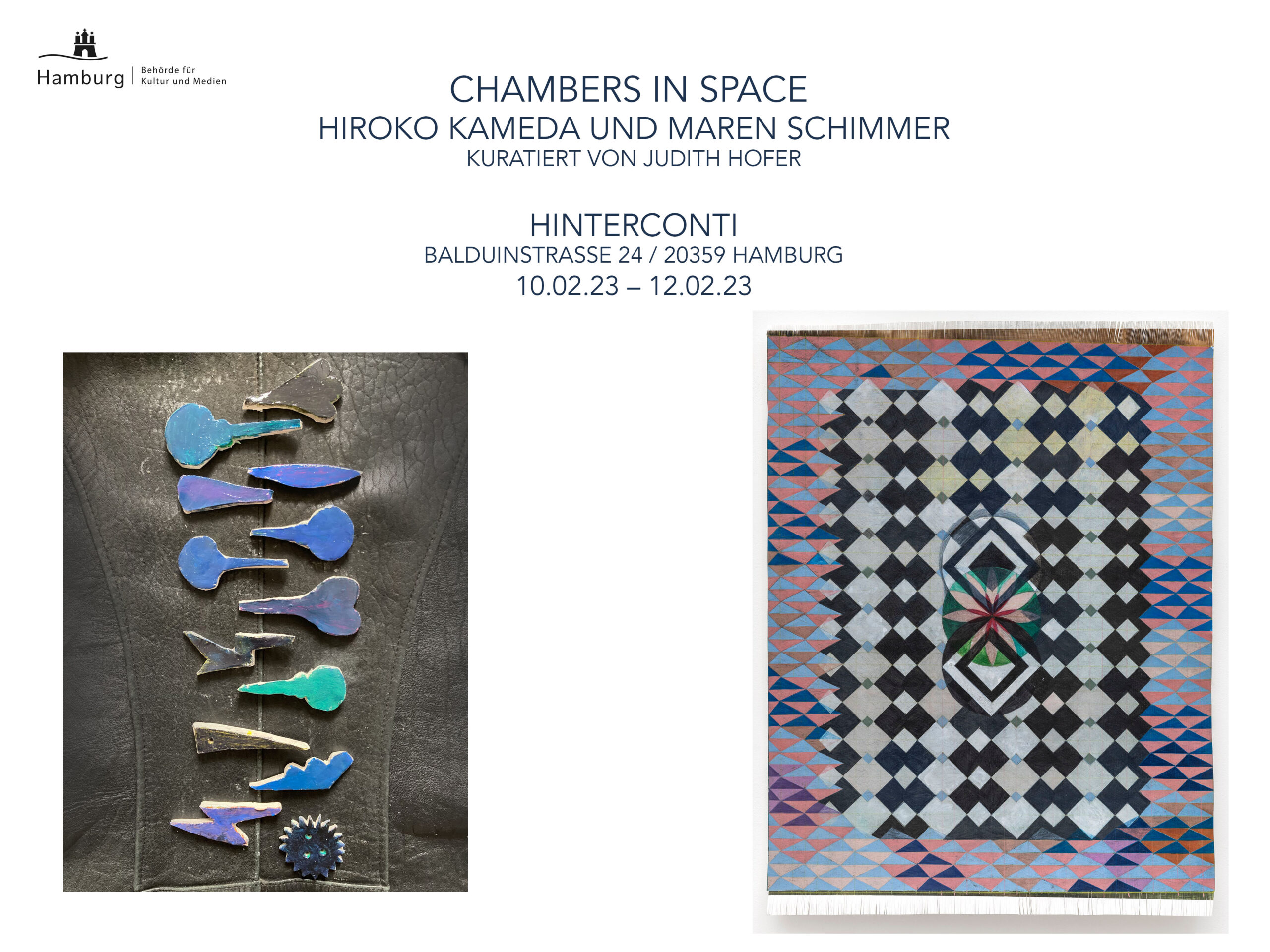 CHAMBERS IN SPACE
HIROKO KAMEDA & MAREN SCHIMMER
Hiroko Kameda und Maren Schimmer beschäftigen sich in ihrer künstlerischen Arbeit auf unterschiedliche Weise mit Räumen – mit den ganz kleinen heimeligen Behausungen und den unendlich großen des Weltenraums. Durch die Erschließung und Strukturierung des Kosmos in Raum und Zeit, versuchen wir Halt zu finden. Doch auch die kleinsten Räume vermögen die schwindelnde Unendlichkeit zu bergen. Vergangenheit, Gegenwart und Zukunft verschmelzen in Momenten oder einzelnen Elementen, eingebettet in die Halt-gebende Strukturierung des Raumes, welche sich jedoch in jedem Augenblick wieder aufzulösen vermag. 
kuratiert von Judith Hofer
Vernissage am 10. Februar 2023 ab 19:00 Uhr
Öffnungszeiten: 11. & 12. Februar 2023 14:00-18:00 Uhr
HINTERCONTI
Balduinstraße 24 – 20359 Hamburg 
Gefördert von der Behörde für Kultur und Medien Hamburg
Hiroko Kameda, geboren in Sano, Japan, lebt und arbeitet in Hamburg 
"Ich schaue nach der Verbindung wischen Zeit und Raum, Ewigkeit und Vergänglichkeit und übertrage dieses Verhältnis in meine Arbeiten. Es interessiert mich besonders die Bewegung der Menschheit durch die Zeit und die Welt. Es ist nicht nur physische Bewegung von A nach B, sondern auch der Lauf der Zeit. Ich frage mich auch warum man es tut.
Was man essenziell in der Gegenwart erleben und hoffen kann, unterscheidet sich nicht immer wesentlich von der Vergangenheit und ähnelt dem Kreisen einer Uhr. Die Kraft der zeitlichen Diachronie und Synchronie in Verbindung mit alltagsbezogener Fantasie findet man in meiner Arbeit.
Ich stand auf dem Markt von Trajan in Rom und fand einen kleinen Löwenzahn auf dem Boden vor meinen Füßen. Vielleicht haben die Römer vor 2000 Jahren auch schon den Löwenzahn hier gesehen und vielleicht findet man ihn in 2000 Jahren noch immer."
Maren Schimmer ist 1983 in Henstedt-Ulzburg geboren. Sie lebt und arbeitet in Hamburg als Künstlerin mit dem Fokus auf Malerei und Zeichnung.
"Das Sujet meiner Arbeiten sind hauptsächlich transzendentale Innenräume.
Diese entstehen meist durch das Anlegen verschiedener Flächen und Ornamente die sich dann zu Räumen im Arbeitsprozess verdichten.
Der Ausgangspunkt kann auch eine Erinnerung an einen konkreten Ort sein.
Für den Arbeitsprozess sammle ich Lichtspektren, Formen, Muster aus meiner alltäglichen Umgebung, sowie Erzählungen und deren spezifische Atmosphären. 
Der Kippmoment, zwischen Heimeligkeit und Unheimeligkeit des Verborgenen ist etwas das mich in meiner künstlerischen Arbeit stets begleitet.(…)"
//////////////////////////////////////////////////////////////
CHAMBERS IN SPACE
HIROKO KAMEDA & MAREN SCHIMMER
In their artistic work, Hiroko Kameda and Maren Schimmer both deal with spaces in different ways – with the very small, cozy dwellings and the infinitely large ones of the universe. By analyzing and structuring the cosmos in space and time, we try to find a foothold. But even the smallest rooms are able to hide the giddy infinity. Past, present and future merge together in moments or individual elements, embedded in the structure of the space that provides stability, which, however, can dissolve again at any moment.
curated by Judith Hofer 
Opening reception: 10th February 2023 7:00 P.M.
Opening hours: 11th & 12th February 2023 2:00-6:00 P.M.
HINTERCONTI
Balduinstraße 24 – 20359 Hamburg 
Funded by the Ministry for Culture and Media Hamburg
Hiroko Kameda, born in Sano, Japan, lives and works in Hamburg

"I look for the connection between time and space, eternity and transience and transfer these relations into my work. I am particularly interested in the movement of humanity through time and the world. It is not only physical movement from A to B, but also the passage of time. I also wonder why one does it. What one can essentially experience and hope for in the present does not always differ significantly from the past and is similar to the circling of a clock. The power of temporal diachrony and synchrony in connection with everyday fantasy can be found in my work. I was standing in Trajan's market in Rome and found a small dandelion on the ground in front of my feet. Maybe the Romans saw the dandelions here 2000 years ago and maybe you will still find them in 2000 years."

Maren Schimmer was born in Henstedt-Ulzburg in 1983. She lives and works in Hamburg as an artist with a focus on painting and drawing.

"The subject of my works are mainly transcendental interiors.These are usually created by creating different surfaces and ornaments, which then condense into spaces in the working process. The starting point can also be a memory of a specific place. For the working process I collect light spectra, forms, patterns from my everyday environments, as well as stories and their specific atmospheres. The tipping point between homeliness and the uncanny of the hidden is something that always accompanies me in my artistic work.(…)"