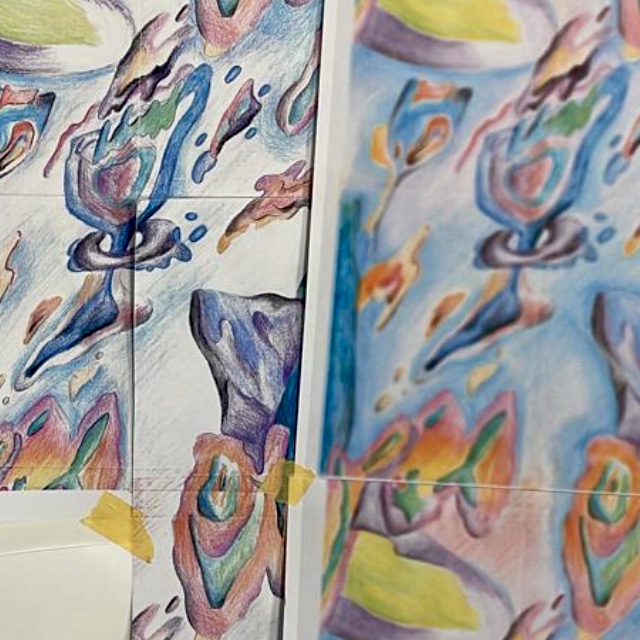 MARINA BUDIN
When mood becomes an object
7. – 9. April 2023
Eröffnung, Freitag 7. April ab 19 Uhr
Öffnungszeiten, Samstag und Sonntag 14-19 Uhr
When mood becomes an object, dann formen sich Sehnsüchte. Die dünne Linie zwischen Brauchen und Wollen verschwimmt.
Sie verfügen über die Dinge im Konjunktiv. Sie würden sich kaum um die Wohnung kümmern: sie würden darin leben. Sie hätten zu lächeln gewusst wie reiche Leute. Es gäbe Honig, Toast, halbierte Pampelmusen. 
Barfuß über Cowboy Gras im Reich kommerzialisierter Tagträume.
Marina Budin (*1988) lebt und arbeitet in Nürnberg. Ihr schier grenzenloses Interesse an den Dingen, die uns umgeben, setzt den Ausgangspunkt ihrer installativen Settings. Mit dem Habitus der Bastelnden erarbeitet Budin einen assoziativ wachsenden Fundus an materialgewordenen Wunschträumen und narrativen Verbindungen.
Im hinterconti kokettieren selbstgemalte Tapeten, DIY-Möbel und semifunktionale Objekte mit den Highs und Lows von Kunstgeschichte und Alltagserzählungen. Marina Budin untersucht das Verhältnis von Produkten, ihren Nutzen und Bedürfnissen, und ist auf der Suche nach dem Potential, das in den Lücken dazwischen liegt, um damit neue Geschichten zu spinnen.
ENGLISH
MARINA BUDIN
When mood becomes an object
April 7 – 9, 2023
Opening, Friday April 7 from 19h
Opening hours, Saturday and Sunday 14-19 h
When mood becomes an object, then desires become manifest. The thin line between what we need and what we want starts to blur.
The objects are at their disposal in the subjunctive. They would hardly care about the apartment: they would live in it. They would have known how to smile like rich people. There would be honey, toast, sliced grapefruits. Barefoot on Cowboy Grass in the realm of commercialized daydreams.
Marina Budin (*1988) lives and works in Nuremberg. Her almost boundless interest in the things that surround us sets the starting point of her installative settings. With the habitus of the tinkerer, Budin develops an associatively growing fundus of materialized dreams of desires and narrative connections.
At hinterconti, self-painted wallpaper, DIY furniture, and semi-functional objects flirt with the highs and lows of art history and everyday stories. Marina Budin explores the relationship between products, their use, and needs, and she is on the lookout for the potential that lies in the gaps in between, using it to weave new stories.