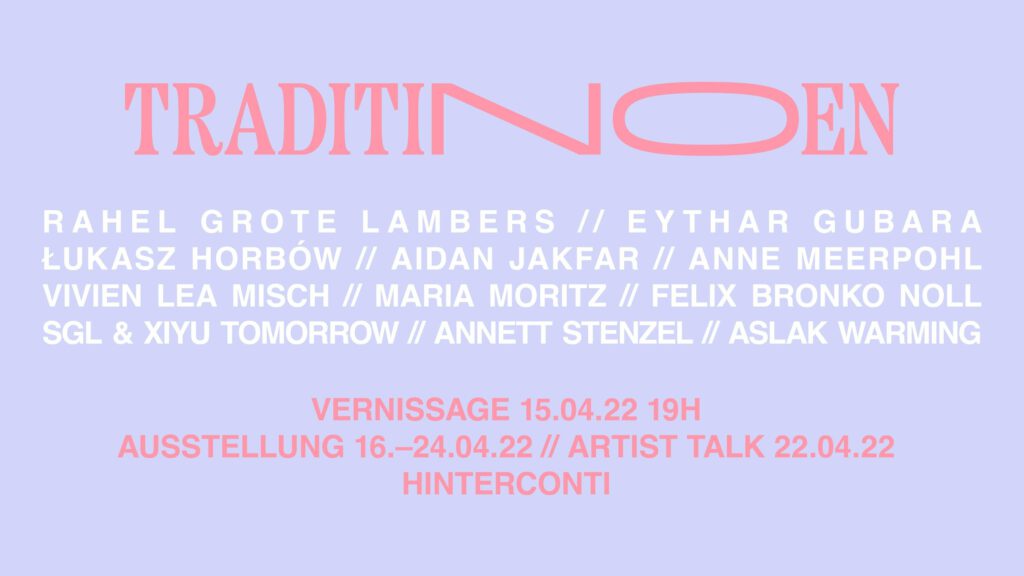 TraditiNOen
mit
Rahel grote Lambers
Eythar Gubara
Łukasz Horbów
Aidan Jakfar
Anne Meerpohl
Vivien Lea Misch
Maria Moritz
Felix Bronko Noll
sgl & Xiyu Tomorrow
Annett Stenzel
Aslak Warming
kuratiert von Maik Gräf und Stefan Mildenberger
Die Ausstellung TraditiNOen zeigt künstlerische Beiträge, die sich ins Verhältnis zum Thema "Traditionen" setzen und reflexiv auf dieses Bezug nehmen. In Zeiten globaler Unsicherheiten kommt in gesellschaftlichen und politischen Diskursen vermehrt die Frage nach einer Rückbesinnung zu historischen Gewohnheiten auf. Der Begriff "Tradition" dient hierbei als Chiffre für Stabilität und Sicherheit – erzeugt aber freiheitliche und selbstbestimmte Einschränkungen. Begriffe wie beispielsweise Familie, Sexualität, Religion und Herrschaft sind traditionell besetzt und eröffnen somit ein Spannungsfeld aus Hinterfragung und Transformation.

The exhibition TraditiNOen presents artistic contributions relating to the theme "traditions". In times of global uncertainty, there are increasing tendencies in social and political discourses to return to historical habits. The term "tradition" serves as a code for stability and security – but it creates restrictions of freedom and self-determination. Terms such as family, sexuality, religion and authority are associated with tradition and thus open up a field of reconsideration, questioning and transformation.
Vernissage: Freitag, den 15. April 2022, um 19 Uhr
Artist Talk: Freitag, den 22. April 2022, ab 20 Uhr
Ausstellung: 16.-17. April und 23.-24. April 2022, jeweils von 14-18 Uhr
hinterconti e.V.
Balduinstraße 24
20359 Hamburg
Einlass gemäss der aktuellen Corona Bestimmungen.