a project by chilean artists Paulina Mellado and Enrique Flores currently in residency at Achterhaus.
OPENING Friday 24.02.2023 7pm
Saturday / Sunday open from 3-6pm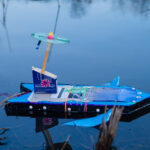 Menjunje is where the diverse ingredients and materials of daily life mingle.
Delicate and mysterious rafts built with a breezily attitude float adrift. Our diverse thoughts, skills and ways of making are combined with the aim of staying above, of sailing freely over deep stagnant waters.
Each of the small floating creatures is an island of its own, made with different tricks and materials
found during our stay in Hamburg: rubbish, ribbons, pins, beads and clippings of chilean landscapes.
Each of the frail rafts drifts surrounded by foreign waters while gently and safely holding these humble objects with no clear destination.
Paulina Mellado is a visual artist from Chile. Through a DiY approach with a focus in installation, and ceramics, her work deals with landscape and "nature". She also co-runs the artist space Oficinas Meteoro that, with a feminist approach, offers artists studios, organizes residencies and more. 
Enrique Flores is a Chilean visual artist. Through humor he addresses notions of identity and stories of his own country. He works with different media such as painting, video, sculpture, and performance. Enrique has created several autonomous spaces and projects in Chile, such as Instituto Tele Arte, Galería Daniel Morón, among others. 
insta:
@elenriqueflores
@paulinamellado
@achterhaus_artists
@hinterconti_hellsclub