w Leonid Kharlamov, Vladimir Seleznev, Natalia Tikhonova and Boris Vogeler 
collective paintings, videomontage, sound, game and talk curated by Dörte Habighorst and Peter Boué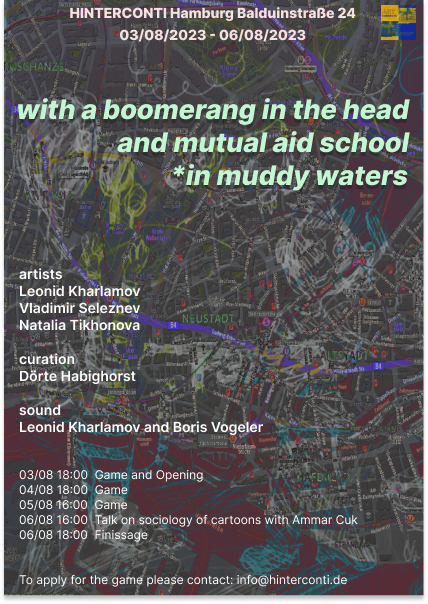 dt
Es spielt keine Rolle, in welcher Stadt oder Republik der UdSSR jemand geboren wurde oder aufgewachsen ist – der kulturelle Kontext war ähnlich. Die Kinder gingen in Pionierlager, lasen die gleichen Bücher und sahen die gleichen Zeichentrickfilme. Ein kollektives kulturelles Erbe, das sich noch heute in diesen Gebieten erzählt wird.
Die künstlerische Zusammenarbeit "With a Boomerang in the Head" von Leonid Kharlamov, Vladimir Seleznev und Boris Vogeler reflektiert aus heutiger Sicht, die Figuren und Charaktere berühmter sowjetischer Cartoons und entfaltet die Helden jener Epoche aus ihren autoritären Linien und ausgrenzenden Narrative, um im nächsten Schritt ihre Bild, Sound und Videoebene zu de-konstruieren und im Heute zu erproben.
Ein Experiment, das von Natalia Tikhonova mit "The School for Mutual Aid", einem Live-Action-Rollenspiel mit dem Titel "In Muddy Waters" weitergeführt wird. "The School for Mutual Aid" setzt sich mit den Methoden der Untergrundarbeit im zeitgenössischen Kontext auseinander – und begegnet der Praxis von Selbsthilfegruppen als ideale Schule für gegenseitige Selbsthilfe von Selbsthilfegruppen.
Unter der Leitung von Natalia Tikhonova werden die Teilnehmer:innen durch das Spiellabyrinth navigiert, das aus einer Reihe von Rätseln und Interaktionen sowie informationellen und spielerischen Komponenten besteht.
Besucher:innen / Interessierte sind herzlich eingeladen sich als Teilnehmer:innen für das Spiel anzumelden (info@hinterconti.de)
en
It doesn´t matter in which city or republic of the USSR a person was born or grew up – the cultural context was similar. Children went to pioneer camps, read the same books and watched the same cartoons. A collective cultural heritage that is still told today in these territories.
The artistic collaboration "With a Boomerang in the Head" of Leonid Kharlamov, Vladimir Seleznev und Boris Vogeler reflect on yesterdays figures and characters of famous soviet cartoons and experiments their present de-contruction in a image-, sound and videomontage by unfolding their authoritarian lines and exclusionary narratives.
An experiment that gets continued by Natalia Tikhonova with "The School for Mutual Aid", a live-action role-playing game, titled "In Muddy Waters". "The School for Mutual Aid" deals with methods of underground work in a contemporary context – in which the practice of self-help groups becomes the ideal school for mutual self-help for self-help groups.
Under the direction of Natalia Tikhonova, participants are navigated through the game lab, which consists of a series of puzzles and interactions as well as informational and playful components.
Visitors are invited to register as participants in the game (info@hinterconti.de) 
Vernissage / opening
Donnerstag 03.08.2023 / Beginn 18Uhr  
geöffnet/ open
Freitag 04.08.2023 18-22Uhr
Samstag 05.08.2023 16-20Uhr
Sonntag 06.08.2023 16-20Uhr
Programm / program
The School for Mutual Aid: "In Muddy Waters" guided by Natalia Tikhonova
Do, 03.08.2023 / Beginn 18Uhr
Fr, 04.08.2023 / Beginn 18Uhr
Sa, 05.08.2023 / Beginn 16Uhr
register for game application: info@hinterconti.de
Talk w Ammar Cuk, (film) sociology UHH
Sonntag 06.08.2023 16Uhr
Finissage
Sonntag 06.08.2023 18-20Uhr
With a Boomerang in the Head is founded by